About the Long Island Fishing Charters Captain
NY Fishing Charters for first timers, pros, and families!
Captain Andy LoCascio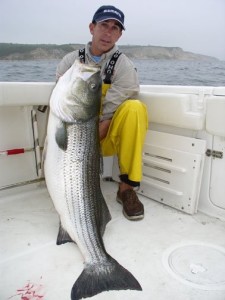 Capt Andy has over 30 years of regional fishing experience, and is an accomplished writer, seminar speaker, tournament angler and expert on both inshore and offshore fishing.  He has been a licensed NY fishing charter captain for over 20 years.
Capt Andy LoCascio is the host of the hit fishing TV show Northeast Angling.  All of the episodes, features, and instructional videos are available FREE on the Northeast Angling YouTube channel.  You can also follow all the news and features on the Northeast Angling Facebook page.
He is the founder and captain of Team Triton/Mercury the 2008 FLW Striper Series champions. Capt Andy has also been featured in numerous magazine articles and on other national TV shows.  Click to learn more about Captain Andy LoCascio.
Guests (of any age) need no prior fishing or boating experience, Capt Andy will provide all the instruction you need.  He is also available for personalized instruction for anglers learning to fish the Long Island waters on their own boats.
Capt Andy is also comfortable working with kids and families and is the perfect choice for your child's first charter fishing experience!  Always be sure to let him know the ages of any children in the group to ensure the proper safety equipment is aboard and the trip plan is appropriate.
Capt Andy LoCascio has written for several prominent fishing magazines

A Nose for Fish
Potcakes Daisy and Dusty use their sense of smell to help their owner find baitfish
By TOM SCHLICHTER in Northeast Boating Magazine
Captain Andy LoCascio points the bow of his 28-foot Triton center console northwest and begins a slow run towards the middle of Manhasset Bay. As we push past a flotilla of moored sailboats, his two dogs, daisy and Dusty bound to the bow, spring to attention and stick their faces hard into the wind..click here to read more
---

The Butterfly Effect…
Walk the dog deep to fetch more fish!
By CAPTAIN ANDREW LOCASCIO in Worldwide Angler Magazine
In late spring of 2004 a package arrived at my door from the folks at Shimano. It included a light rod, a very robust reel, an instructional DVD and a handful of weird blade-like jigs. There had been growing hype about a "revolutionary" new fishing system coming out of Japan called butterfly jigging. Now it was in my hands…click here to read more
---

One Rod, a Handful of Lures, and a Pair of Sneakers
By CAPTAIN ANDREW LOCASCIO in Worldwide Angler Magazine
A summer house in Cape Cod, a business trip to Tampa, or a road trip along the Gulf of Mexico – what do all these things have in common? They offer really fun opportunities to catch fish. But when you are traveling or vacationing, you can't bring all the tackle you'd like. You also never know what conditions you are going to encounter. Improvisation is a must…click here to read more
---

TV Show Scores 'Holy Grail' of Shark Fishing
By CAPTAIN ANDREW LOCASCIO in Worldwide Angler Magazine
Capt. Bill Brown looks like a man who has made fishing a cornerstone of his life. When he speaks of shark fishing, he cannot contain his passion or hide his incredible insight and understanding. As host of the Northeast Angling television show, I knew that we wanted more than the usual shark show. We knew we could get a good blue shark bite in a variety of locations, but the Holy Grail of sharks we were seeking was a…click here to read more
---

Long Island's Other Striper Run
By CAPTAIN ANDREW LOCASCIO in Worldwide Angler Magazine
It was first light on an outgoing tide. My clients and I were drifting toward a submerged rock pile 30 yards ahead when my sonar screen began marking huge boomerangs. It could mean only one thing – we were moments away from our first big striper of the morning. Right on cue, the live bait closest to the rock pile surfaced and swam in tight corkscrews…click here to read more
---

Marlin Evolution
By CAPTAIN ANDREW LOCASCIO in Saltwater Sportsman Magazine
The sun had just crept over the horizon and four of the biggest trolling lures I have ever seen left smoke trails through the wake of our boat. In the distance, a beehive of seabirds hammered an acre-wide patch of the surface. Then the port line exploded from the outrigger and peeled off the reel. Not long after the hookup we had a blue marlin that looked all of 450 pounds at boatside—one of eight marlin we released that day…click here to read more
---

Western Sound Stripers on Peanut Bunker
By CAPTAIN ANDREW LOCASCIO in Sportsman Channel Magazine
As I cut the engine, the boat glided quietly into the shallows. The wind slowed the boat to a stop and started to push it backwards. Rich gently slipped the anchor over the side in six feet of water and tied it off. I opened the baitwell and grabbed a couple of handfuls of 3 inch peanut bunker and tossed them off the back of the boat. Before we could even grab our rods, there were bass swirling…click here to read more